Holmes à Court Gallery @ no. 10
https://hacgallery.weebly.com
and the works list here

https://vimeo.com/407432062
'Concrete EXPANDED'

FEATURED ARTISTS:

Consuelo Cavaniglia, Jennifer Cochrane, Janenne Eaton, Robert Hunter, Brian McKay
Trevor Richards, Douglas Sheerer, Helen Smith, Trevor Vickers, Joshua Webb

DATES:
3rd July - 29th August 2020
@
Holmes à Court Gallery @ no. 10
Douglas St. West Perth
Opening Hours: Tues-Sat, 11.00am-5.00pm


2019
2019 Holmes à Court Gallery @ Vasse Felix Cnr. Tom Cullity Dr & Caves Rd, Cowaramup
Gallery Hours : Daily 10am - 5 pm
2 June - 22 September 2019 : Concrete E X P A N D E D large-scale, hard edged,
minimal, abstract and pure colour paintings are joined by, three-dimensional wall-works,
actual concrete sculpture, light sculptures and ephemeral light works. Together these
works coalesce and converse in philosophical questions of form, aesthetic experience and
existence.
ARTISTS: Rebecca Baumann, Consuelo Cavaniglia, Janenne Eaton, Robert Hunter, Brian
McKay, Trevor Richards, Douglas Sheerer, Helen Smith, Trevor Vickers, Josh Webb.
Included are both works from the Janet Holmes à Court Collection and works of local
artists available for purchase.
Collections
2018
Written for Howard Taylor 100 UWA LWG 2018 : Douglas Sheerer 2018 : 23/10 - 8/12 2018
2002.6 Taylor Howard Study for Landscape pastel 35x55 cm (h,w) 1989 5/12/02
2002.7 Taylor Howard Study for Landscape pastel 35x55 cm (h,w) 1989 5/12/02


'The Planes of Creation'
( ( ( ( ( ( ( ) ) ) ) ) ) )

If I were, to draw upon,
The spatial forest breathing . . . . .
Could I bear witness, without seeming,
To be the keeper, on a constant basis?
To the changes taking places,
In those vast ambiguous spaces,
Halation viewed through the forest dense,
Expansive views . . . . .
. . . An immersion sense.

Winds in movement, expansive lines,
Opposing forces > > > < < <
Twice light at times,
Of the day and of the night,
Notations necessarily tight,
To draw, to note, to see again,
The shadows in the Autumn rain,
As if to mark that time again,
Another view . . . . .
. . . But not the same.

The sky is brought to land by line,
Horizon line . . . . . . . . . that is,
But distance makes this scape fragment,
Enough to make perspective jar,
In the wake of rendering far,
Enough to be a merging factor,
Enough to be an engaging actor,
In this scene of fact not fiction,
Augmented by . . . . .
. . . The eye's conviction.

Realism is in reality,
Through contra-curving light,
Impressionistic transposition,
The forest floor and line of sight,
Projection waves intense but calm,
Are driven wide . . . . . expanding,
To left and right the vapour moves,
Exhaling as it passes . . . . .
. . . The paper stays in place.

Opposing light transcends the dark,
The air is full of meaning,
The hollow wind shifts and ranges,
A move is on, the view it changes,
Air, it leans one way then other,
Clouds begin transforming sky,
Cumulus shapes billowing high,
Above the ground the air is moving,
Beneath the floor . . . . .
. . . The forest heaves.

Expansive views are out of range,
Falling off the plane of vision,
To see afar is out of focus,
But gentle to the eye,
Pastel shading, spreading shape,
Across the paper foliage,
Memory, ideation bound,
Sits squarely in . . . . .
. . . The 'Planes of Creation'.

Douglas Sheerer 2018
2016

2012
Douglas Sheerer
Offset Aura 1 & 2 2012
Stainless steel, chrome, magnets,
inkjet print on CD
Diameter 36 x 17 cm edition 5 + A/P
$ 1,650 each
Available from WILLIAM WRIGHT // ARTISTS' PROJECTS Sydney and Galerie Düsseldorf Perth
Douglas Sheerer
Divine Garden : Series 2010-2011
WILLIAM WRIGHT // ARTISTS' PROJECTS
91 STANLEY STREET EAST SYDNEY NSW 2010
Exhibition dates 2 - 25 February 2012
By appointment Wednesday - Friday 1.00 - 6.00
Open Saturday 12.00 - 6.00
M: 0404 904 609 E: ww.artistsprojects@mac.com
Douglas Sheerer
Divine Garden : Series 2010-2011
Galerie Dusseldorf
28 August - 25 September 2011
Within the context of Earth, Water and Sky the 'Divine Garden' series of works
are concerned with derivations and aspects of :
Sanctuary, Symmetry, Spirituality, Sensibility, Spatiality, Harmony and Illumination.
DIVINE GARDEN' series 2010-2011 ed.3 : Terra Australis, Moorrila, Tasmania 2011
IMPRINT Summer 2010 Volume 45 Number 4 Special feature on Digital Printmaking
Langue Froid - Cold Language/Tongue
Opening Sat 14 Nov 4 - 6 pm
14 Nov - 20 Dec 2009
Conny Dietzschold Gallery 2 Danks Street | Waterloo - Curated by William Wright and Conny Dietzschold
Fredda Una Lingua : 2 x Douglas Sheerer works included in the exhibition
Douglas Sheerer : scattered facets 2009 (unique laser prints)
Download / View Exhibition catalogue includes artist's Biography and intro (pdf file 312k
Douglas Sheerer
'F o r e s t o f l i f e' 2004
Archival pigment inks Inkjet Print on Backlit film
Image 50 x 120 cm Overall 80 x 150 cm
Suitable for archival museum/box framing or lightbox application
Limited Editon of 5 (lightbox / archival framing extra)
$ 950 *A/P (Also available Paper size 30 x 42 cm in edition 5 @ $ 330 *1/5)
Through the Eyes of a Pilot
The Artificial Horizon __________ a calibratory instrument __________ a round flat spatial disk __________ continually separating sky from land whilst indicating and dictating the angle of flight __________ a moving line where thresholds become phenomena divided __________ where silence reaches down to meet the earth __________ where sky light is refracted and absorbed.
The Horizon Line __________ the line we stand up for __________ the distant line we can never reach.
The Water Line__________ a point of meeting and departure __________ the significant divider __________ where opposites exist in unison __________ where exchanges are made __________ where matter changes.
The Pilot's Eye __________ elevated __________ distanced through creased structural devices that radiate and stretch across the pictorial plane and through their complicity become
'Trees and Dam'.
The Line
> _______________________________________________________________________________ <
'Tree Line' Howard Taylor
Writing The Collection John Curtin Gallery 2004
Douglas Sheerer
February 2004


Digital Printmaking published 2003 George Whale & Naren Barfield

2002
Maquette reference Prints 2002


Diversity in Digital Print 2001
Idea of Water 1999/2000

Digital Animation Simulation. CD ed 5 $ 330 (illustrated on Fujitsu Plasma Screen)

(545.4mb) Image Size Variable (This animation is too large to show on the internet)

View and click on 3 of the 8 QT Movies from 1999/2000

Movie 1 Movie 2 Movie 3

Digital Animation Simulations and Interactive Modules - Suite of 8 works CD ed 5 Image Size Variable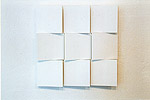 Sensorium - Articulation 1997

Acrylic on 9 Hinged MDF Panels 21" x 21" (Acquired Holmes á Court Collection)
This article is based on a presentation given by the authors on 9th March 2001 to the conference of the International Association of Fine Art Digital Printmakers (IAFADP)part of The Southern Graphics Council's 29th Annual Conference, held at the University of Texas at Austin. © George Whale & Naren Barfie
1991
'WOODWORKS' Portfolio
'Weltanschauung'

Douglas Sheerer
1988 Print Council of Australia Commission

30 Portfolios of 6 Colour Etchings Edition 30

'Weltanschauung' 1988

1984 Printmakers Association Award

Douglas Sheerer : Mixed Media Works : Galerie Dusseldorf April 1982